—————

A Lot Is Changing This Year

Event Details:
Wed., March 7, 2018
6 to 8pm
at IAC
150 West 30th Street, 15th Floor
CMS (Center for Medicaid and Medicare) is demanding changes. Federal cuts have resulted in budget deficits. Staff shortages are threatening proper supervision and we are moving slowly to Managed Care.
EVAN SULLIVAN*, former Legislative Aid to Senator Carlucci who now works influencing the Legislature at Ostroff and Associates will help us understand how we can best protect and support our family members. He knows all the players and how the legislative process works.
Special Guest:  Susan Constantino, President and CEO of Cerebral Palsy Associations of New York State (CP of NYS)
READ MORE FROM OUR LATEST NEWS LETTER
———————————————————–
Become involved now: Events and Meetings on Developmental Disabilities for friends and families.
Legislative & NYS Budget Events in NYC
Budget Briefings at each Borough Developmental Disability Council Meetings
Each Council sponsors an event with legislators as well.
Budget Briefings:
Brooklyn: February 26, 2018
Bronx: February 28, 2018
Manhattan: February 8, 2018
Queens: February 5, 2018
Staten Island: February 16, 2018
Legislative Events:
Brooklyn: March 9, 2018
Bronx: March 16, 2018
Manhattan: March 9, 2018
Queens: March 9, 2018
Staten Island: March 2, 2018
Visit the website of the DD Council in YOUR borough for details
—————————————————————-
Get Ready To Travel:
MORE EVENTS SOON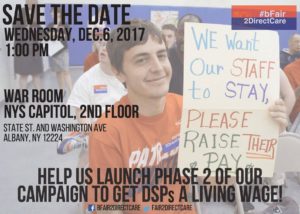 —————————————————————-
Thank You to the 100+ who participated in NYC FAIR's Meeting about CCOs & CAS on October 23rd, 2017
JoAnne Lamphere, Kate Bishop & Diane Woodard presented for OPWDD
—————————————————————-
Concerned about the lack of Residential Opportunities in New York State: Read "Keeping The Promise" Report to the Governor & Sign the Petition: Details HERE
————————————————–
NYC FAIR as part of the collaborative efforts of SWAN (NYC FAIR, GROW, ENYDDA & DDAWNY FC) was invited to meet with OPWDD's Acting Commissioner Delaney about Care Coordination Organizations and related topics.
—————————————–

Things Are Happening NOW:
Sign up for OPWDD's emails today
"Join the Conversation" and be empowered with accurate, timely information & have the chance to be heard
YOU ARE1 CLICK AWAY:
Join the Conversation: opwdd.ny.gov/jointheconversation 
—————————————
FLEXIBLE HOURS. ZERO PAY
SEE MORE
———————————
——————————–
——————————–